Sunday Morning Worship Service 9:30 am
Watch us live every Sunday morning on our YouTube Channel
Subscribe and get notified when we go live!

HAVE YOU HEARD THE NEWS? We will be having 2 worship services starting September 10!
8:30am & 10:45am with Sunday School for ALL AGES from 9:35am-10:30am.
*We will livestream our service at 8:30am on the 1st, 2nd, 4th Sundays, and the 3rd Sunday will be at 10:45am.
*When there is a 5th Sunday in the month
(ex: Oct 29) we will only have one service at 9:30am and it will be live streamed. Sunday School will follow 10:50am-11:30am
**Watch our Facebook page for any last minute changes.
New Series Starting Sept 10th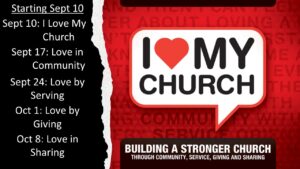 For more Information about our service, please click on the home tab and then the join us!